You can edit all the settings under the Money tab from the left menu.
For setting up pricing plans, here's a more detailed article
Invoices
First tab will show you the list of existing invoices, which can be edited, sent or downloaded in PDF format.

Invoice Settings
Invoice settings are used when creating invoices. You need to add at least one company for invoices to be created.
Company
Invoice Number
can have a text prefix but must end with some digits. First ever invoice for this company will have this exact number (enter S001 if you want first to have S001). The subsequent invoices will have the numeric value +1.
VAT value
According to your company accounting settings.
Currency
Final currency will be added on the invoice, by converting plan values using an international exchange rate. If your plans are in USD and final currency is EUR we will show both values on the invoice.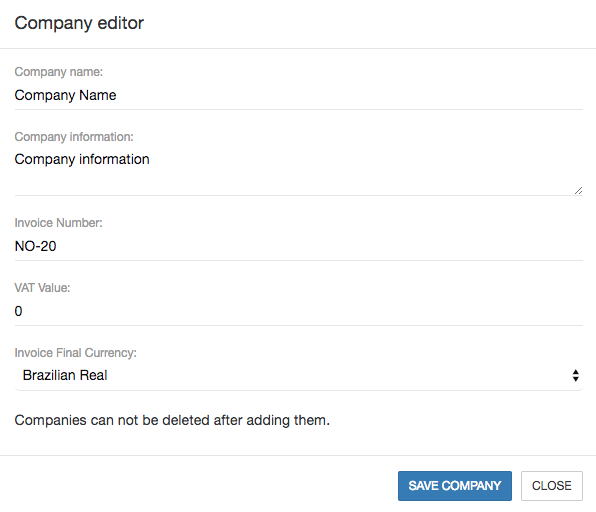 Other invoice settings
The following settings can also be configured for each customer.

Create & Send invoices – This will automatically create and send invoices on the the beginning of each month.
Auto Charge invoices – After first online payment, card details can be reused for next payments. We do not store any card information, everything is stored by Braintree
Unpaid invoices – If invoice is not paid by due date, there are 2 options:
an automatic workflow start that will send reminders, pause campaigns and stop rejecting events for the account
only an email reminder is sent, with all unpaid invoices.
Default Note – Static text added at the bottom of every invoice
Due Date – Number of days for payment. Will appear on the invoice, as date
Feedback Link – Each email sent with the invoice can have a feedback link. If you're using our own surveys, we will add a custom param to know who added the feedback.