Triggering onsite campaigns can be done in different ways:
based on how much time user spent on page
when it scrolls
clicking page elements
on exit intent (desktop)
on inactivity
on closing the page
on leaving the page (mobile)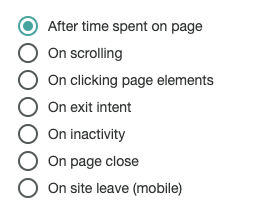 Some of these triggers can have parameters. For example:
time spent on page (how many seconds)
scroll percentage.
Reasons to use various triggers:
Increase conversions: Testing different triggers gives you insight into the best timing and context for your popups.
Better user experience: You can customize your popups to provide value to users at exactly the right time.
Track user behavior: Testing different triggers allows you to observe user behavior and see how response rates change when different triggers are used.