This is a dedicated page to guide you through onboarding and configure initial account information: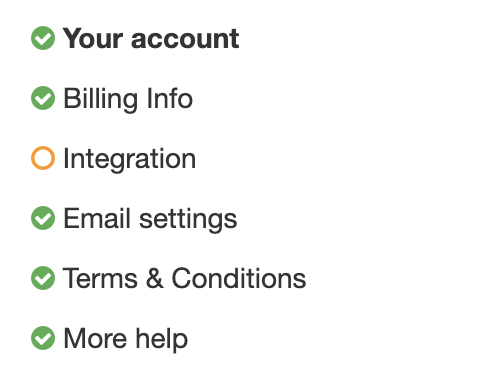 Your account
Configure specific account settings like:
Timezone
Date format
Currency
Country
Logo
Billing Info
In this section you will need to enter billing information like:
company information
VAT number (needed to generate invoices according to regulations)
Address
Integration
This section includes details how to integrate using:
ecommerce modules
javascript Pixel
If you are not technical you can forward this information to your developer.
Email settings
Under this section you can fill default email information (from name and email address) as well as authenticate the domain as sender.
For domain authentication please read more here: https://help.vtcdn.net/knowledge-base/setup-domain-authentication/
Terms & Conditions
Acceptance of Terms and conditions is required to use our platform.
More Help
Presenting the methods on how you can get help.