You can test email content to see how it looks in your email client. We recommend the following tests to be done:
when an email template it's changed. This test should be the most thorough, for all main email clients, browser-based, on desktop apps or mobile devices.
when a new campaign is created or modified. This test will help you spot typos, wrong links, missing information or other situations.
How to test an email?
There are 2 places where you can send tests for your emails, when you edit or preview the email in our app.

Test emails while editing content
Click on the Send Test button

A new drawer will show at the bottom. Enter your email addresses here and click send test.

Test emails from preview
While previewing an email content, on the bottom left side you will see the following 3 buttons. Clicking the first one allows you to enter an email address and send yourself a test.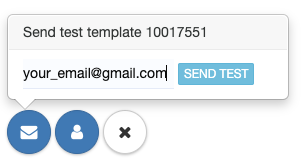 Advanced test
You can test an email with real event and user data. This is useful if you want to test a transactional campaign triggered with specific event information.
Toggle on Advanced test and enter event data or real user identifier. This is available in the edit modal of the email content.