Our system completely integrates with Google Analytics (Universal Analytics) by automatically sending events.
Things to know:
You need to have Universal Analytics installed on your website, either directly or through any TagManager.
You need to have admin rights over your account.
All events are passed to first tracker found on your page. (If you have multiple trackers, let us know so we can make changes for you. If you don't know anything about this, you'll probably have only one).
You can enable or disable this integration under Setup -> Integrations
You can choose which events to send, either all or only some of them.
See before how events are sent so you can setup goals under your Google Analytics account.
Enabling sending events to GA
In your account, under Setup -> Integrations, you'll find a Google Analytics sections. You need to enable it, so events will be sent.
From the list of events, you can choose which events to be sent. By default we forward all events.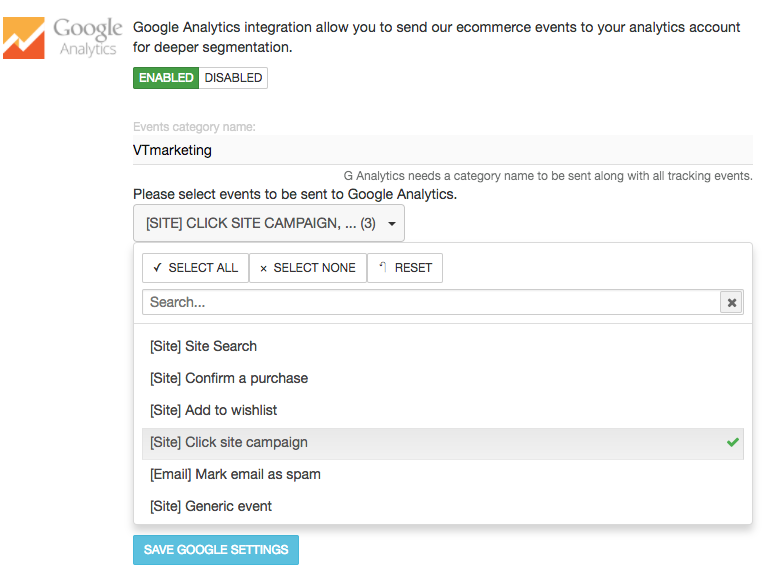 How events show up in your Analytics Account
According to Google Analytics, each event has the following format :
ga('send', 'event', [eventCategory], [eventAction], [eventLabel], [eventValue], [fieldsObject]);
Field Name
Value Type
Required
Description
eventCategory
text
yes
You can change this name from the input field. Default is VTMarketing.
eventAction
text
yes
Event type: viewitem, sitedisplay, sitesubmit, checkout …
eventLabel
text
no
For item related events is itemId.

For category events is categoryId

For site campaigns is built from campaignId_contentId

For search is query

For purchase is orderId_numberOfItems

eventValue
integer
no
A numeric value associated with the event (e.g. 42)
Setting up goals in Analytics
If you need to setup a goal in your analytics account, here's a detailed article.