To create a custom segment in Google Analytics that will allow you to segment users who interacted with our campaigns, login to your account and follow the steps below:
GA4
To create a new Segment in GA4 follow this guide from Google.
Universal Analytics
The article below describes the steps required for old version of Google Analytics called Universal Analytics (EOL 2023)
1. In the right hand side menu go to Conversions > E-commerce > Overview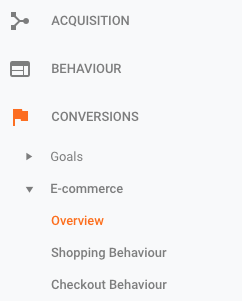 2. Click Add segment

3. Add a new segment

Name the segment vt_marketing
Go to Advanced -> Conditions -> Filter select Users -> Include and add filters

Page contains vt_campaign OR
Medium contains email OR
Medium contains notification

An then click Save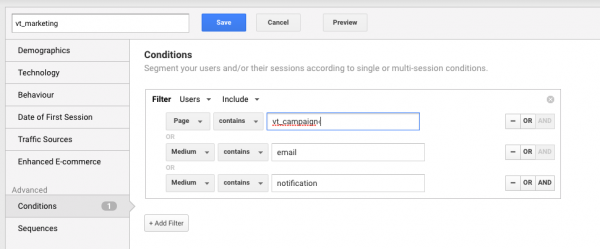 This segment will include all users that interacted with one of our campaigns.
Based on this segment you can see conversion averages or any other report that will present the ROI of our solution.